---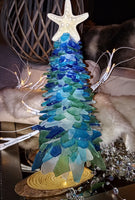 Irene's beach glass trees have become a classic for the holidays.  Lovingly and painstakingly assembled, this striking holiday decoration is list to cast a glow on your mantle or tabletop.  A beautiful centerpiece, your guests will want one for themselves!  But these are in limited supply with only a limited supply online.  And please note that these are one-of-a-kind pieces, so your tree may differ slightly in color from the tree pictured.
Large tree is 16" high.
Trees are not shippable.  Pickup at The Depot beginning November 18th during our Holiday Show & Sale.  Open Sat: 10-5 and Sun: 10-3.