---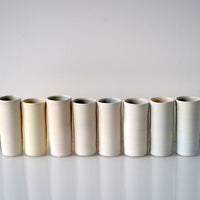 Another beautiful piece from ceramicist, Lynne Tan. Subtly tinted flutes to beautifully show off wildflowers or simply as a sculptural piece to admire on a shelf.
Wheel thrown. Exterior is unglazed, with lightly textured brush and throwing marks. Interior is glazed. Available in a variety of colors.

Height between 5 to 5.5", diameter between 2 to 2.5"

Note:  Please allow the artist to choose the color for you!