---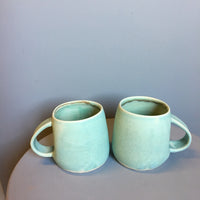 This mug is designed and made by Lynne Tan of Southwest Michigan whose work can be found in shops and galleries in the area.  The mug features an unglazed, matte finish with an interior glaze in a glossy turquoise.  Each mug is distinctive in its irregularity and makes your morning coffee even more enjoyable!  What a beautiful piece to display on a shelf in your home.  Dishwasher and food safe.  
Each mug sold separately.
15 oz.  approximately 3.5" tall.