---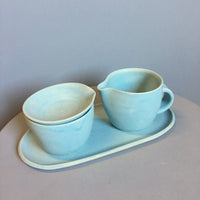 Designed and made by Lynne Tan, this sugar and creamer is so beautiful, you'll never hide it in a cabinet.  
Ms. Tan is known for her simple aesthetic, beautiful glazes and organic shapes.  
Made of a matte-glazed porcelain clay, the creamer holds a generous amount of cream and the sugar includes a top that may also be used to hold artificial sweetener.