---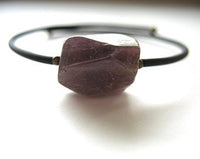 This stunning bracelet beautifully complements so many other pieces from Jaclyn Dreyer's line.  The raw amethyst is gorgeous on its own, too!  The bounce back bracelet fits most wrists and is comfortable to wear.  The bracelet expands to slip on or off your wrist and will snap back to its original form after its removed. 
Bracelet measures 7" around.  

Each piece is unique and may not look exactly as pictured.