---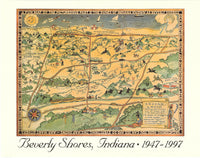 This beautiful, illustrated map was drawn by Midwestern artist Helen Aldrich Swenson in 1936 when she resided with her husband, Benjamin F. Swenson who managed the Beverly Shores Inn. She was born in Hickory Corners, Michigan and graduated from The Art Institute of Chicago after which time she worked as an illustrator and commercial artist, often designing Christmas cards for Marshall Field & Company, until marrying in 1933.  The Swenson's moved to Angola, Stueben County, Indiana in 1937 to manage the Potawatomi Inn until 1948 when they established the nearby Wing Haven Resort.
Mrs. Swenson drew several maps over the years including one for the Pokagon State Park where she worked as a naturalist, guiding bird-tours.  She knew the name and call of every bird and the name of every flower and tree.  
While many people sought to buy her maps, she never wanted to sell them.  Upon her death in 1983, her 160-acre homestead was donated to the Acres Land Trust, an organization dedicated to the preservation of natural lands in northeastern Indiana.  Among her artwork, remaining in her studio, was found the original Beverly Shores map which was returned in 1985 to northwestern Indiana.
Local residents Carl O. Reed and Anna Palchik brought the Fun Map back to the public eye with her tasteful design of this commemorative poster.  Anna's career spanned 40 years in the graphic design field, mainly as a book designer, artist, and writer.  She worked for the New England Patriots newspaper, Little, Brown and Company, Bedford/St. Martin's Press, a subsidiary of Macmillan Publishing, and her own book design business where she received many awards for design excellence. We are grateful that she lent her talents to this beautiful poster.
This fine-art, award-winning poster was printed, in 1996, by Newcomb Printing, Michigan City, to commemorate the 50th  anniversary of the incorporation of Beverly Shores as an Indiana town on January 2, 1947. is now available for sale to you once again.
This is a piece of work that you'll treasure over the years.
Poster measures 28"W X 22"H.