---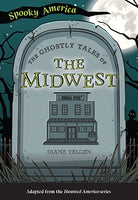 Ghosts lurk around every corner.  Even the most unexpected places might be haunted by wandering phantoms.
Did you know that the spirits of one family have lingered long after their home was torn down?  Or that a ghost librarian has a scary way of revealing the books she has selected for you?Can you believe that a phantom musician loved entertaining so much that he can't stop playing?
Pulled right from history, these ghostly tales will change the way you see the Midwest, and have you sleeping with the light on!
Author: Diane Telgen
Children's book
Paperback
5.25"W x 7.63"H
112 pages/50 images