---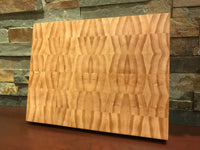 Dale Nichols is a retired attorney who, with his wife, Nancy, resides full time in Beverly Shores. He enjoys volunteering his time and talents to benefit local environmental and community organizations, and finds satisfaction in pursuing various creative interests, including music and woodworking.
This beautiful board is a patchwork of end grain cuts from New Zealand pine.  A work of art on its own, you may want to leave it out to admire instead of storing it in a cabinet!
To care for the board:
You may wash it with soapy dish water, but be sure to dry it right away.
Occasionally oil it with food grade mineral oil, flaxseed oil or hemp oil
Measures: 12" X 9" X 1.5"