---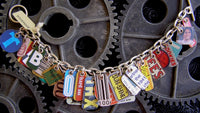 Lisa Nordstrom doesn't just make jewelry, she reconstructs memories. Memories triggered by everyday items like tea tins, band aid tins, cracker tins, retro tins, keys, game pieces and other found objects that she then turns from the mundane into something magical. Necklaces, bracelets and earrings that, while one of a kind, can reflect your own unique style.
A natural born gatherer, Lisa gathers vintage and discarded items to create not only whimsical jewelry but mixed media assemblages that tell stories, reflect on the human condition and relay the wonder and worries of life's journeys.
One of a kind charm bracelet handcrafted using new and vintage tins. Small pieces of multiple tins have been hand cut and filed to create 28 "charms" that are attached to a silver-plated cable chain. It measures approximately 7 1/2 inches.
Please note that this bracelet has been created using recycled materials and the charms may display the patina and wear typical of their first lives.