---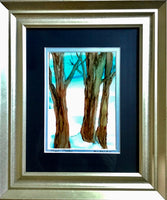 The process I use to create my alcohol in paintings explores the formation of forms and patterns without the use of the brush. 

Alcohol ink colors are individually applied and controlled only by pouring, tilting, turning and flipping the ink onto Yopo paper.  
Hard textures found in trees, rocks and mountains are created by sliding the side of a plastic straw while the ink is wet.
No other tools are used.  Blending ink transpires wondrously by its own nature, through its thinness and intensity.
Mary C. Parks
"Media is something I thought I was to control, but letting it control me releases the true spirit." -- Vincent van Gogh
This beautiful alcohol ink captures the peaceful silence and beauty of a winter scene as three oak trees stand tall, blanketed by the snow.  

Measures 13.5" X 12.5". Framed
Medium: Alcohol Ink