---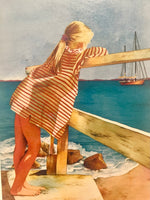 International Master Watercolor Artist, Pomm Hepner was raised by a Paris-born artist and always surrounded by art, but it wasn't until she moved to Aix-en-Provence to study art that she made the firm decision to become an artist. After completing her studies, she moved back to America where she took watercolor classes with Scott Moore in Laguna Beach. She fell in love with watercolor as a medium for self-expression. Pomm developed a hallmark watercolor technique, applying several layers of translucent colors to evoke the colors, light, and shadows of her European travels. She aims to capture the movement and energy of life, especially life's creative moments.
Her work—both as a Los Angeles Master Painter and oil painter—has won her national acclaim and has placed her as a favorite among collectors around the world. Her paintings have won numerous awards and her piece, "Unspoken Courage," created in honor of the fallen firefighters during 9/11, hangs in the headquarters of the NYFD.
You must see her work in person!  Stop by the Depot and you won't be disappointed.
Canvas print from original art
Measures approximately 5" x 7"