---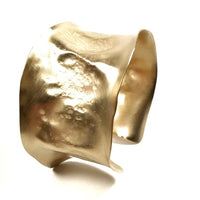 The materials used for this jewelry have a past, and memories that go back to the beginning of time. Elements fused together and became metal, the metal was refined and fabricated into beautiful silver plated trays given as gifts for a new marriage, to someone who earned a bit of recognition, or just because. 

Then the memories change and are passed on to someone else, and the old memories are refashioned into new ones. 

A walk along a beach or river, will often find bits and pieces of burnt wood, things once recognizable and useful, now cast aside. Memories of a campfire, love, friendship, and good food. 

This collection is about the memories that fill our lives, we share, put away, then burn into our consciousness for safekeeping. 
The bracelet is made of hammered brass.

Wabi-Sabi
​
Is described by Lenard Koren, in his book, Wabi-Sabi : for Artists, Designers, Poets, & Philosophers as "the quintessential Japanese aesthetic. It is a beauty of things imperfect, impermanent, and incompleate. It is a beauty of things modest and humble, It is a beauty of things unconventional."

I strive to fulfill wabi-sabi in my jewelry.