---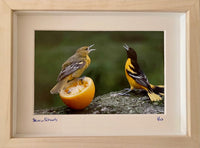 Steven Schwab is an amateur photographer who spends his free time in Beverly Shores.  He loves to capture the songbirds in the area, including this pair of Baltimore Orioles, having a disagreement over whose turn it is to eat the orange. 
Archival giclee print

Print measures 4" X 6"

Outside Measurement 5" X 7"