---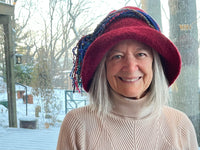 Suzy Vance, a Beverly Shores residence, is known for her beautiful woven textiles, from table runners, to shawls and hats.  This hat keeps your head and ears warm against strong winter winds off the lake and looks super stylish at the same time.  And remember -- this is a one-of-a-kind design!
Add your own adornments such as a favorite pin or woven ribbon above the brim.  Use your imagination!
Material: Wool
One size fits all
Woven scarf around hat not included.